Yoga Teacher & Designer @activeyogagirl
Current Classes - Fridays @ 18.15pm

Danielle Christina (founder) is a certified Vinyasa yoga teacher that trained in Sri Lanka as she wanted to experience the authenticity of the practice to gain deeper understanding. Now she has been practising yoga for two years and taught at several locations and venues. Coming from a dance background (Ballet & Latin American dancing), she "finds yoga the rhyme of life". Stating that yoga is the balance between healthy body and mind, through breath and movement. Asana qualities are not only about the physical body but also the state of the mind. One affects the other. Asana are practised to create strength to be still and flexibility to be comfortable in the movement or posture. It is an expression of mind, body, and breath working in harmony. Through the practice of yoga we can achieve a healthy balanced lifestyle.
Q&A

Q Where have you taught?
Yoga in the Sky for British Airways, The Sea Lanes Brighton, Studio IO, Private one-to-one sessions and Humankind Studio.
Q When did you decide you wanted to start an ethical and sustainable active wear brand?
I have been working in the fashion industry for many years and had my fair share of working with other conscious (TRAID, American Apparel) and fast fashion brands (mass production). Growing up I was taught to sew by my Italian grandmother but it wasn't until I graduated from my MA in Fashion Entrepreneurship & Innovation at the London College of Fashion that I realised I wanted to create my own brand. The experience I gained working in the fashion taught me the importance of staying away from mass production and being more conscious of wasteful fashion and the environment and questioning where and how clothes are made. Then after practising yoga for over a year, I had the idea to combine my two passions and set up an ethical and sustainable activewear brand.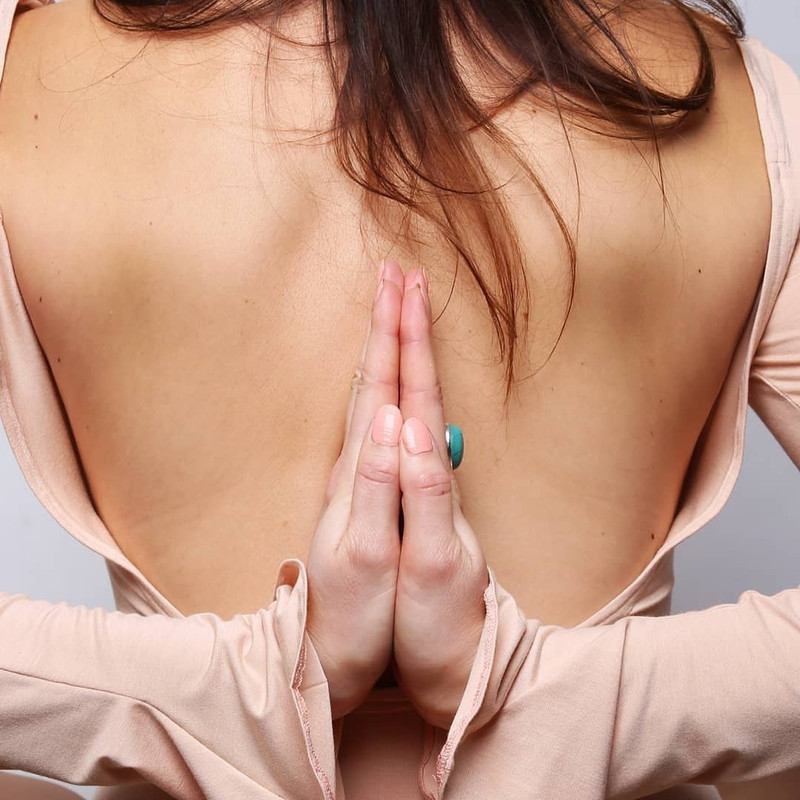 Q Do you think there's a link between yoga and caring about the environment – why do you think this is?

There's a massive link, I've been doing yoga for a few years now and have been developing my own practice. The whole ethos of yoga is connecting to the planet and the universe and being really aware of nature and the environment. Yoga was another big factor in why I set up the brand. I'm really into yoga and have been doing it for a while, and I also have lots of friends who are also into yoga and training to be yoga teachers. So, I decided that I wanted to make clothes for people that I know. When I started there weren't many people doing sustainable yoga wear, so it was quite novel at the time.
Q Why is having an ethical and sustainable focus important to you?
I've worked in the fashion industry and I know how wasteful it can be when it comes to materials and resources. I wanted to avoid that and make it really transparent. This led me to choose to stay away from mass production, making things limited edition and handmade. It's really important to me that people know where and how their clothes are made. Also, the less damage to the planet the better.